EXCURSIONS FROM MANDI
Rewalsar Lake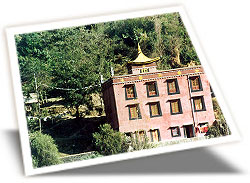 Rewalsar has three Hindu temples which are dedicated to Lord Krishna, Lord Shiva and to the sage Lomas. A small zoo is maintained near the lake. The lake of Kunt Bhyog (1750 m above sea level) lies above Rewalsar as do six other lakes of mythology. These are associated with the escape of 'Pandavs' from the burning palace of wax-an episode from the epic, Mahabharta.
Revalsar Lake: About 25-km from Mandi at an altitude of 1360 m, and 14-km from Ner Chowk is the Revalsar lake, famous for its seven floating islands of reed. It is maintained that all seven of them can be moved by prayer or breeze.
It is square shaped with a shoreline of 735 m, this dark jewel rests on a mountain spur and is protected by a dense vegetation.Here are three shrines - a Buddhist monastery, where elaborate rituals are performed, a Sikh gurudwara and a Hindu temple. It was from this place that the Sage Padma Sambhava, a zealous teacher of Buddhism, left as a missionary to preach the doctrine of "The Enlightened" in Tibet.
Also known as Guru Rimpoche, it was under Padmasambhava's influence that Mahayana Buddhism took root in Tibet at Rewalsar, his spirit is said to reside in the tiny island of floating reed that drifts over the water. There are three Buddhist monasteries at Rewalsar.
Sundernagar
Famous of its temples 26-Km from Mandi towards Shimla and at a height of 1,174m (3,852 ft) on the raised edge of the fertile valley, the beautiful town of Sundernagar is known, also for its shady walks amidst towering trees. On top of a hill and visited by thousands of devotees every year, the Sukhdev Vatika and temple of Mahamaya. The biggest hydro-electric project in all Asia, the Beas-Sutlej Project, irrigating nearly one-fourth of the northern plains of India, has brought unprecedented prosperity to Sundernagar. The Beas-Sutlej Link colony is the biggest colony in Himachal Pradesh.
Naina Devi Temple (71 km from the hotel)
The charming hill resort of Nainital gets its name from the Goddess Naina Devi. A temple dedicated to the deity stands here. The Naina Devi temple is situated atop Naina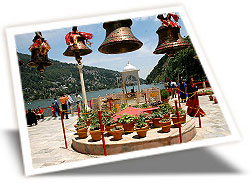 hillock in Nainital. Thousands of pilgrims gather here every year around September to worship Goddess Parvati. The temple of Naina Devi is situated about 7 miles from Anandpore Sahib on Bhakra Nangal rail –line. The temple is situated on Shivalik Mountain and devotees have to cover a distance of above 2 km on foot. It takes for the normal Devotee about half an hour to reach the temple from the foothill.
The temple is dedicated to the Goddess Bhagwati ( Durga). The Goddess Naina Devi is worshipped as a single self born pindi. There is another pindi of Ganesha and a third established by the Pandavas. This is believed to be the 'shakti pita' where Sati's eye fell. Naina means eye. The temple is also known as Mahishapitha because of it's association with Mahishasur.
Naina devi temple is one of the 52 Sati piths according to Hindu scriptures and is perched at 11000mtr.above sea–level, on shivalik range in Bilaspur district of Himachal Pradesh, India. It's scenic beauty is marvelous and all the devotees gets peace and blessings of Ma Naina Devi. It's surrounded by Govind Sagar lake and Bharka Dam. Naina Devi is a great source of comfort, strength and influence on the soul searching. Those yearning for solace, peace and salvation, it is a dream destination and abode of peace.
Janjehli
At a distance of 67-km from Mandi, Janjehli is a paradise for hikers, offering treks up to a height of 3,300m.(10,827 ft). After covering 32-km by a motorable road up to Gohar, the rest of the journey is on foot. In the midst of thick forests, 15-km from Gohar, at Bajahi is beautifully located, well furnished, Rest House, to stay overnight, from where Janjehli is a scant 20-km away, after going through bridle path.
Parashar Lake
Parashar lake is in Mandi district, 40 kms from Mandi town. With deep blue waters, this beautiful lake is held sacred to the sage Parashar. A three-tiered Pagoda-like temple dedicated to the sage lies by the lake - and he is regarded to have meditated here. Its remarkable setting is enhanced by a frame of snow-draped peaks and visible from the lake's edge, the waters of the river Sutlej flow due south. The lakeside and the nearby villages, are sites of various festivals held at different times of the year.
Kamlah Fort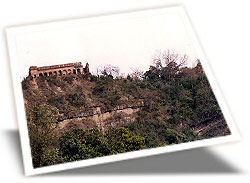 Situated on the border of Mandi with Hamirpur, this fort was built by Raja Surat Sen in 1625.
Pandoh
Just 16-km away from Mandi, Pandoh is an earth and rockfill dam.
Shikhari Devi
15-km from Janjehli is situated the ancient temple of Shikhra Devi and is surrounded by some marvellous landscapes.
HOW TO GET THERE
Air:
The nearest airport is Bhuntar about 57-km from Mandi.
Rail:
The broad gauge railhead is at Pathankot, a distance of 210-km. From Pathankot the narrow gauge railway connects Joginder Nagar, which is 55-km from Mandi.
Road:
Mandi is well connected by road to other places. The main bus stand is just above an open playing field, where the National Highway- 21 continues along the left bank of river to Pandoh.
Excursions From Mandi Reservation Form